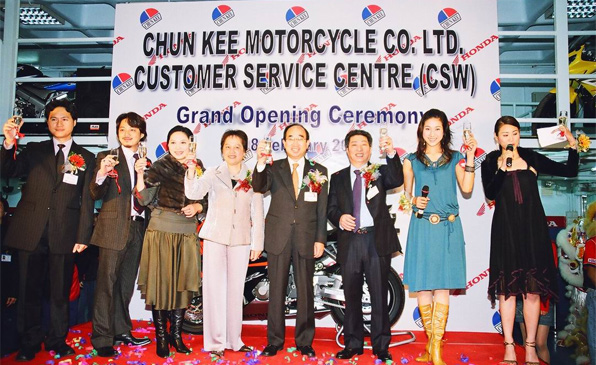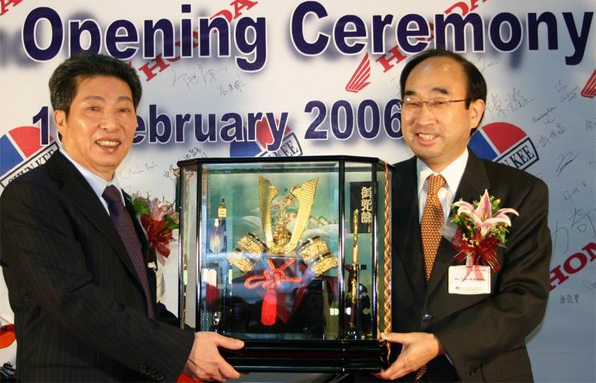 2002年

2002 燦基自成為本田電單車香港總代理後業務蒸蒸日上,多項宣傳活動亦相繼推出,如雜誌、報章及網上宣傳、免費檢測月、車展等,另引進歐洲及美國本田型號,以滿 足市場需求。燦基更設立零件分銷網絡,確定零件庫存足夠量,並將價格作出適當調整,從而增加市場佔有率,令本田用戶真正體驗到最佳的售前及售後服務。

燦基於年中亦引入了本田研製之電單車專用機油,繼續以為消費者提供優質產品的目標進發。燦基由2002年起成為香港警察及各大政府部門之細馬及大馬電單車供應商。



2004年


三月榮獲本田技研工業株式會社頒發銷售大賞金獎(電單車),並出席東京舉辦之頒獎禮。燦基由美國本田引入全地形運輸車(ATV),並派遣要員親赴美國接受嚴格的專業訓練。



2005年


燦基得到本田廠方大力支持,除了引入美國、歐洲本田之型號外,更引入泰國本田的最新型號,務求提供更多選擇予香港車客。同年,燦基亦大量增聘人手,為2006年初開張之長沙灣客戶服務中心作好準備。

2006年
地舖佔地6000多呎、兩層總計過萬呎、投資約港幣2000萬元的長沙灣客戶服務中心於2月18日隆重開幕,以紓緩新蒲崗客戶服務中心應接不暇之情況。中 心並引入全香港首個最全面的電單車安全驗車線,除了可以測試電單車的迫力、馬力、頭燈、咪錶等主要性能外,亦可測試車輛是否符合最新的環保標準。

2002 Chun Kee was running smoothly after being appointed by Honda as their Sole Distributor in Hong Kong SAR. We organized various marketing activities, e.g. promotion on magazines, newspaper and Internet, Free Service Campaign, Motor Show, etc. Besides, we also imported European and
American models of Honda motorcycles in order to satisfy the need of users. We also set up the sales network of parts, by storing enough quantity of stock, revising the price, etc, in order to increase our market share. Honda motorcycle users can also receive the best of our pre- and after-sales services.

Chun Kee imported the Honda motorcycle engine oil in the mid-year, for the sake of providing good quality products for our customers.

Chun Kee became the supplier of small and large motorcycles for Hong Kong Police Force and other government departments since 2002.

2004 Chun Kee was awarded the Best Sales Award – Gold (Motorcycles) by Honda Motor Co., Ltd in March and we had attended the ceremony at Tokyo. Chun Kee imported ATVs from American Honda and Chun Kee staff were sent to America to receive professional training.

2005 With the great support from Honda, Chun Kee had imported American and European Honda models, as well as latest models from Thailand, in order to provide diversified range for customers. At the same year, Chun Kee had employed more staff, in order to well prepare for the opening of Cheung Sha Wan Customer Service Centre at the beginning of 2006.

2006 Chun Kee has invested around HK$20 million in setting up a new Customer Service Centre at Cheung Sha Wan, in order to relieve the busy and crowded situation of the existing Customer Service Centre at San Po Kong. The Grand Opening Ceremony of the Centre with ground floor over 6000 sq. ft. and two storeys totally over 1000 sq. ft. was held on 18 February. It has installed an comprehensive Motorcycle Safety Inspection Line which was firstly introduced to Hong Kong. It can carry out tests on motorcycle main functions including brake, dynamo, headlight and speedometer, as well as compliance of the bike with the latest environmental standard.