Aprilia Dorsoduro 750 Factory,亞恩說這是一台萃取不同血統調配出來的車種。既有爬山車影子,但使用街車的17吋前後輪框,很明顯是屬於Supermoto品種。然而Dorsoduro 750 Factory卻一反常態,並非追求像BMX操控性或俏皮的形象,為了能夠開創新領域,車廠反而藉著較龐大車身首造另類的Maxi Supermoto(大碼Supermoto)品種。

這種有別於傳統Supermoto的路線,很多人都認為車廠捉錯用神,然而亞恩認為Dorsoduro的定位十分清晰。他說車輛驟眼看像「爬雞」的外型,因此可以吸到部份喜愛爬山車騎仕的注意力,但Dorsoduro最大優點是街車化,引擎波牙設定比正宗爬山車較適合街道使用,因此有較高極速,所以在「出車」時,無需經常「盡油」都能夠跟隨大隊。



THE APRILIA MAXI SUPERMOTO ADDS FURTHER TECHNICAL ELEMENTS TO MEET THE NEEDS OF MORE EXPERIENCED RIDERS. EVEN LIGHTER AND BETTER EQUIPPED, EVEN MORE STUNNING, EVEN MORE "FUN", APRILIA DORSODURO HONOURS THE "FACTORY" TITLE BY SIMPLY OFFERING THE BEST COMPONENTS TO MAXIMISE ENJOYMENT. THE DORSODURO IS NOW AVAILABLE AS A NEW VERSION WITH ABS, FOR EVEN BETTER SAFETY AND TOTAL CONTROL



While Aprilia stirred things up in the maxi supermoto market with the Dorsoduro, the new Factory takes the revolution a step further. A refined bike, even lighter and more efficient, whose mission is "fun". A true standard special bike, concentrating performance and technology to obtain top riding fun.

Aprilia never uses the word "Factory" just by chance. In the language of the enthusiasts it refers to elite bikes fitted out with the best technology and made with the best materials. Lightweight, agile, powerful, Dorsoduro Factory heart is the latest generation of the Aprilia 90° V twin-cylinder engine that, thanks to the advanced electronic control, boosts top performance similar to that of higher displacement engines.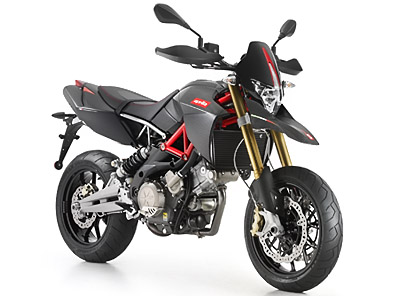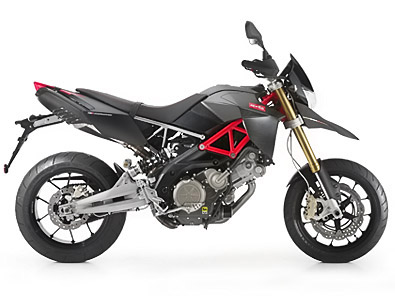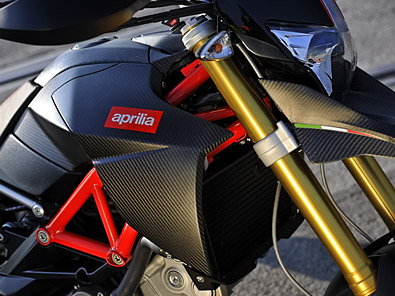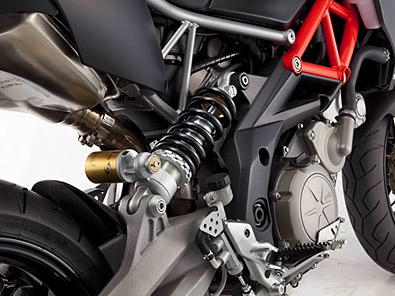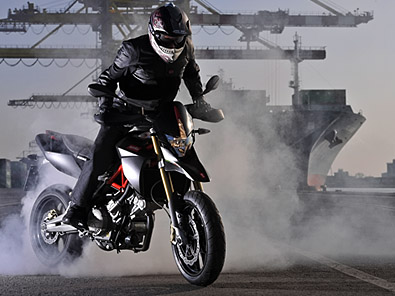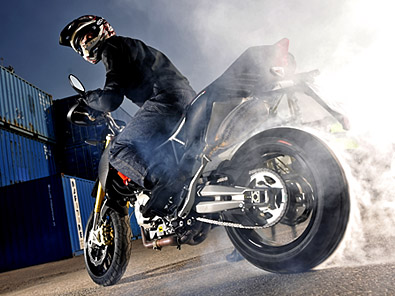 2012 Aprilia

DORSODURO 750 FACTORY ABS 規格表

呎吋 SIZE

全長

Length

2,216mm

全闊

Width

90

5mm

全高

Height

1,185mm

軸距

Centre to centre distance

1,505mm

座位高度

Saddle height

870mm

最低離地距

Height from the ground

-

淨重

Dry weight

185kg

油箱容量

Fuel tank capacity

12L

引擎 ENGINE

引擎模式

Engine

水冷四衝程縱向90度V型雙汽缸DOHC 8氣門




Aprilia V90 four-stroke longitudinal 90° V-twin engine, liquid cooled, double overhead camshafts with mixed gear/chain timing system, four valves per cylinder.

排氣量 Total displacement

749.9c.c.

最大馬力

Max. power at the crank

92ps / 8,750rpm

最大扭力

Max. torque at the crank


8.4kg-m / 4,500rpm

壓縮比

Compression ratio

11.0 : 1

缸徑x衝程

Bore x Stroke

92mm

x 56.4mm

供油系統

Fuel system

綜合引擎管理系統燃油噴注




Integrated engine management system. Injection system




前傾角

Steering angle

26°

拖曳距

Trail

108mm

起動

Starting

電動

Electric

傳動系統

Gear box

濕式多片6前速,鍊條傳動




6-speeds , Chain.

車身

CHASSIS

車架型式

Frame

綑桿式高拉力鋼管車架




Modular tubular steel frame fastened to aluminium side plates with by high strength bolts. Removable rear subframe.




前懸掛系統

Front suspension

直徑 43mm Sachs 全方位調校倒立前叉,行程160mm




Multi-adjustable Sachs upside-down fork with Ø 43 mm diam. stanchions. Wheel travel 160 mm.




後懸掛系統

Rear suspension


Sachs單筒油壓彈簧,全功能調校,160mm行程


Aluminium alloy swingarm Gas-operated shock absorber with piggy back, with adjustable spring preload and compression and rebound damping. Wheel travel 160 mm

.




前制動系統

Front Brakes


320mm

雙

菊花碟配Brembo四活塞放射式卡鉗,附ABS




Dual Ø 320 mm diam. Wave stainless steel floating disc. Brembo radial callipers with four pistons. Metal braided brake pipe.




後制動系統

Rear Brakes


240mm

單

菊花碟配單活塞卡鉗,附ABS




Ø 240 mm Wave stainless steel disc. Single piston calliper. Metal braided brake pipe.




前輪胎

Front Tyres

120/70 ZR17

後輪胎

Rear Tyres

180/55 ZR17