推出的Sportcity 300,成功為Aprilia省招牌,她更是百份百一台非常好玩的Fun Bike,雖然有較高的座高,但引擎的加速性能、靈活轉向反應及剎車性能等等,讓編留下深刻印象。但說明她是Fun Bike,因此實用性有一點不足,就是沒有充足的Seat位底儲存空間。
說回SR MAX300,使用跟Sportcity 300相同的引擎,所以很多人會將她們比較。畢竟SR MAX300比Sportcity 300龐大,無疑令人產生先入為主的感覺。因此待張煒安試駕完畢後,立即進行試駕。最讓編者出乎預料輕輕扭油門,車輛立即往前飆,起步的油門反應非常敏 捷,甚至有點敏感,加速性沒有受到車身額外體積及重量受到嚴重影響,跟Sportcity300不遑多讓,但車輛的掣動系統則有待改進。

SR Max is the new Aprilia scooter which brings the Piaggio Group racing brand into the grand touring segment. Available in the 300 cc version, SR Max puts the Aprilia sport spirit on the road for pure enjoyment and riding pleasure.

Aprilia SR Max interprets the performance and grit of the products from the Noale manufacturer in GT style: the scooter inspired by the racing world which guarantees top performance and great versatility is born.

SR Max, stands out at first glance. An aggressive design traced by taught lines reflects the sport nature of a vehicle which sets itself apart with style and an explosive shape.

The compact but light nose holds the aesthetic dynamism of the headlight assembly: A silver coloured grille is inserted between the two lights, a simple, thin screen which gives the SR Max 300 cc an energetic expression. The graphics which encompass the light and the air intakes create a "contrast" with the vehicle colouring, together with the "three-coloured" scheme, which are flaunted on the upper part of the shield, give the SR Max elegance and an unmistakable style.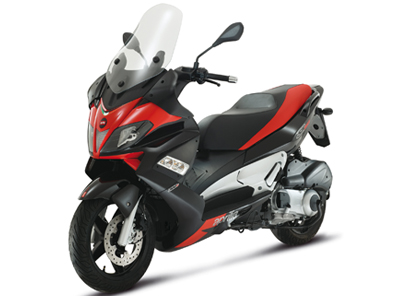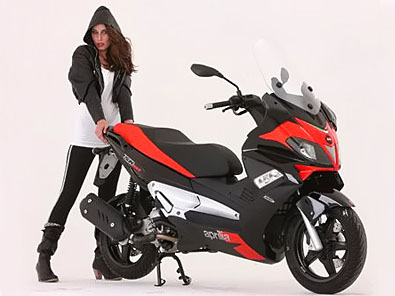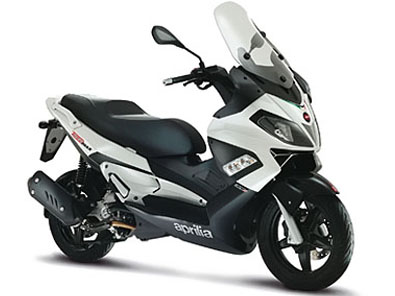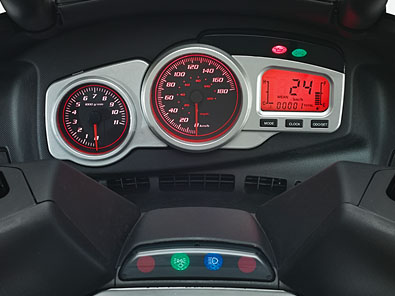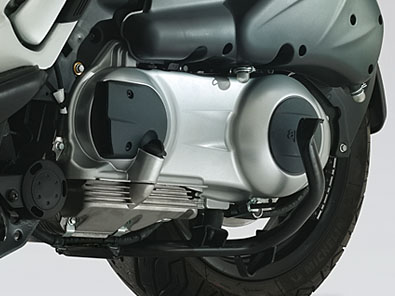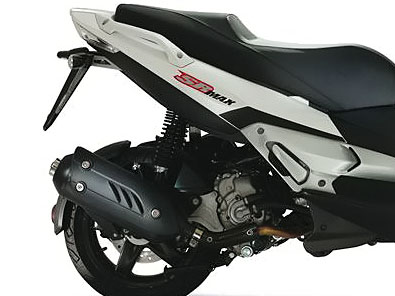 Aprilia SR MAX 300 規格表

呎吋 SIZE

全長

Length

2,110mm

全闊

Width

780

mm

全高

Height

1,515mm




軸距

Centre to centre distance

-

座位高度

Saddle height

815mm

最低離地距

Height from the ground

-

淨重

Dry weight

-

油箱容量

Fuel tank capacity

15.5L(2.8L後備油箱)

(including 2.8 litre reserve)

引擎 ENGINE

引擎模式

Engine

水冷四衝程SOHC單汽缸4汽門




Single cylinder, 4 stroke, 4 valves

排氣量 Total displacement

278.3c.c.

最大馬力

Max. power at the crank
22hp / 7,250rpm


最大扭力

Max. torque at the crank

2.35kg-m / 6,000rpm


壓縮比

Compression ratio

-

缸徑x衝程

Bore x Stroke

75mm

x 63mm

供油系統

Fuel system

電子燃油噴注

系統




Electronic injectio

n system

前傾角

Steering angle

-

拖曳距

Trail

-

起動

Starting

電動

Electric

傳動系統

Gear box

V型皮帶無段變速




V-belt,

Automatic torque converter

車身

CHASSIS

車架型式

Frame

雙翼樑

鋼管車架




Double cradle in high strength tubular steel

前懸掛系統

Front suspension

直徑35mm正立前叉


35 mm Ø hydraulic telescopic fork

後懸掛系統

Rear suspension


雙筒油壓尾避震,3段預調




Double hydraulic shock absorber with three-position spring preload adjustment

前制動系統

Front Brakes


260mm

剎車

碟配2活塞式卡鉗




260 mm Ø disc

後制動系統

Rear Brakes


240mm

剎車

碟配2活塞式卡鉗




240 mm Ø disc




前輪胎

Front Tyres

120/70 - 15

後輪胎

Rear Tyres

140/60 - 14