2012年的Shiver是屬facelift版,今次改動主要是車身拉花的改 動,但跟上一代版本相比,小型風擋及頭燈兩側加設了小型燈罩,令她更具神韻。一對前掣動碟也換上時下跑車流行的菊花碟,在說明她具有運動型賽車的另一面, 但又不像一般跑車般令你有一種乘騎辛苦的感覺,這就是Shiver 750採用人體工學去鑽研最舒適街車的結果。

廠方強調的高端人體工學數據下設計的新駕駛感受,其中一方面是比上一代薄5cm的座鞍之上,這個經過優化的處理提升承托力之餘,配合重新設計的前後乘客腳踏,讓騎士可獲得更接近跑車的駕駛感受。

全車最大亮點包括一對新設計的前後輪圈,提升行車的靈活性。當然還包括前面提到的新設計超薄座鞍,不單為外觀帶出時尚氣息,能帶給騎士和乘客很舒適的乘騎感受。

Shiver是當時首台用上電子油門的街車,融合在749.9c.c.水冷四衝程V型90 DOHC 8氣門的機器引擎操,廠方並且設計了三個駕駛模式選擇設定,分別為Sport(運動模式)、Touring(巡航模式)和Rain(雨天行車模式)。而最大馬力達到95hp,扭力則有8.25kg-m,跟同廠Dorsoduro 750相約,同樣講求低扭輸出的機車。



The Aprilia naked which astonished the world with stylistic and technological content which was so fresh and new that it was inaccessible to the direct competition, confirms the leadership it has built thanks to its strong personality, riding pleasure and ergonomic features.



An innovative engine fitted with latest generation integral Ride by Wire, a multimap, a first-rate chassis which is able to satisfy all levels of riders, and technical outfit that no other bike even comes close to. Aprilia Shiver is without a doubt the benchmark bike for medium engine capacity nakeds.

There are a few key issues which mark the success of Shiver. It is a bike which can seduce even the most demanding rider, but it is also able to bring on those who are new to the two-wheeled scene, as it is so amazingly easy to ride.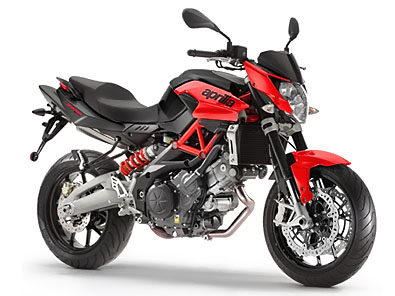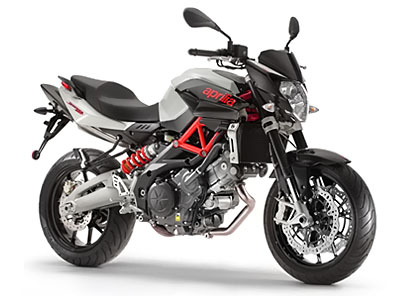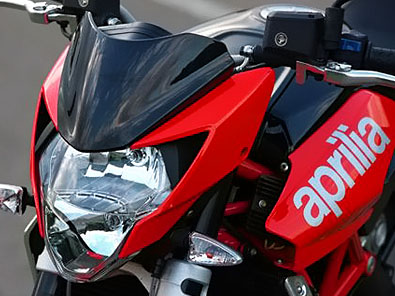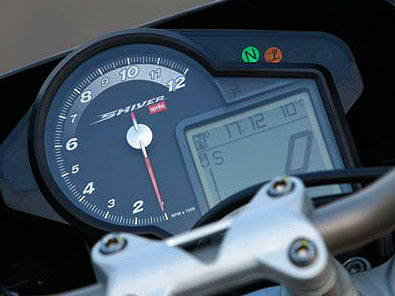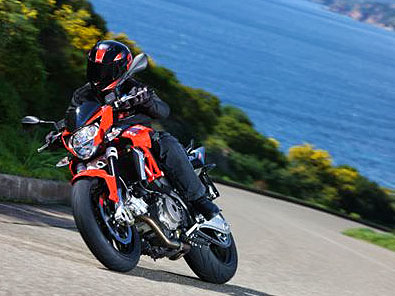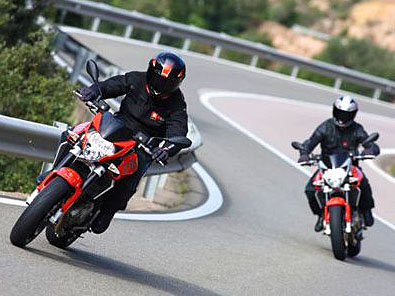 Aprilia Shiver 750 規格表

呎吋 SIZE

全長

Length

2,265mm

全闊

Width

810

mm

全高

Height

1,185mm

軸距

Centre to centre distance

1,135mm

座位高度

Saddle height

800mm

最低離地距

Height from the ground

-

淨重

Dry weight

189kg

油箱容量

Fuel tank capacity

15L

引擎 ENGINE

引擎模式

Engine

水冷四衝程V型90度縱向雙汽缸DOHC 8氣門




Aprilia V90 four-stroke longitudinal 90° V-twin engine, liquid cooled, double overhead camshaft with mixed gear/chain timing system, four valves per cylinder.

排氣量 Total displacement

749.9c.c.

最大馬力

Max. power at the crank

95hp / 9,000rpm

最大扭力

Max. torque at the crank


8.25kg-m / 7,000rpm

壓縮比

Compression ratio

11.0 : 1

缸徑x衝程

Bore x Stroke

92mm

x 56.4mm

供油系統

Fuel system

平順式引擎制系統




Ride by Wire integrated engine control system.




前傾角

Steering angle

25.7°

拖曳距

Trail

109mm

起動

Starting

電動

Electric

傳動系統

Gear box

濕式多片6前速,鍊條傳動




6-speeds , Chain.

車身

CHASSIS

車架型式

Frame

圓形鋼管Trellis / 鋁合金混合車架




Modular tubular steel frame fastened to aluminium side plates by high strength bolts. Removable rear subframe.




前懸掛系統

Front suspension

直徑43mm倒立前叉,120mm行程




43 mm upside-down fork. 120 mm wheel travel.




後懸掛系統

Rear suspension


液壓單筒吸震連接鋁合金搖臂,130mm行程




Aluminium alloy swingarm with reinforcement truss. Hydraulic shock absorber adjustable in spring preload and rebound damping. Wheel travel: 130 mm.




前制動系統

Front Brakes


2 x 320mm菊花碟配4活塞卡鉗,二路ABS糸統




Double stainless steel floating disc (Ø 320 mm ). Four piston radial calipers. Metal braided brake line.




後制動系統

Rear Brakes


240mm

菊花碟配單活塞卡鉗




Stainless steel disc (Æ 240 mm) with single piston caliper. Metal braided brake line.




前輪胎

Front Tyres

120/70 ZR17

後輪胎

Rear Tyres

180/55 ZR17