全新的2012 Aprilia Dorsoduro 1200可謂衝著爭奪皇者寶座而來的一個殺戮機器,他們把世界冠軍機器結合了令時今日紅遍歐美的Motard風格互相配合,打造出最強勢的時尚街車,廠方 明言:她的功能是最佳的,運動性是最佳的,力量和敏捷性也是最佳的﹗

在現有的市場份額上檢視,目前最多追隨者的一條Aprilia Dorsoduro宗教分支,還是Dorsoduro 750,但廠方相信,當大家見證了2012 Aprilia Dorsoduro 1200的威力是如何無可抵擋的話,或許這個形勢會變得更均等。除了部份Dorsoduro 750的信眾被拉攏過來的同時,更將人家的忠心粉絲也逐一擊破和吸納過來。因為2012 Aprilia Dorsoduro 1200能做到比別人更多一分的魅力。



IMPROVED CHASSIS, AESTHETICS AND ELECTRONICS, THE TWO CYLINDER MOTARD FROM APRILIA EVOLVES INTO THE MY2012 VERSION. EVEN MORE AGILE, VERY POWERFUL, ELITIST, TO SATISFY THE SHREWDEST RIDERS.



Aprilia Dorsoduro 1200 is the new benchmark in the maxi motard class. A record two cylinder, with 130 hp, placed in an incredibly agile and lightweight chassis. With its sleek forms, broad handlebars, impeccable attention to detail and premium componentry, this motorcycle represents the zenith of the twin-cylinder maximotard class. Dorsoduro 1200 is an explosive cocktail of horsepower, agility and riding precision.

The heart of the Dorsoduro 1200 is the Aprilia 90° V2 1200cc two cylinder engine which flaunts the most advanced technical solutions on the market. The mechanical sophistication and top notch chassis, true feathers in the cap of the entire Aprilia production line, also represent the winning hand of the Dorsoduro 1200, which also offers an extremely refined sport design and agility and fluidity never before seen on a two cylinder of this size.

The Dorsoduro 1200 boasts class-beating technical solutions: radial Brembo callipers, hydraulic clutch, Ride by Wire with 3 different engine maps and the Matrix instrument panel with on board computer are all elements setting the Dorsoduro apart as a unique and exclusive project. The Dorsoduro is also available with ABS and Aprilia Traction Control (ATC), to combine total fun with total safety.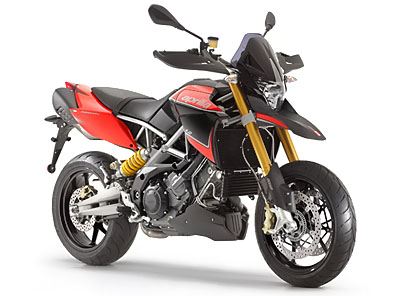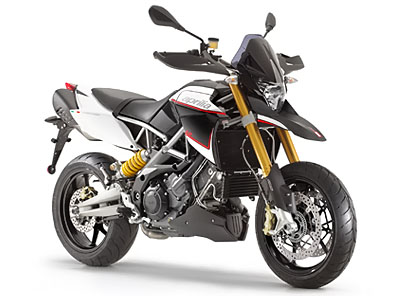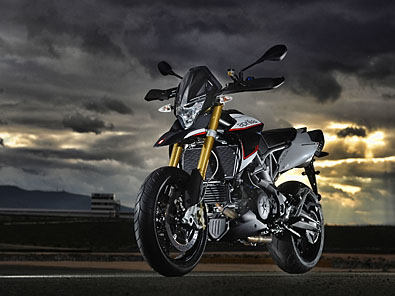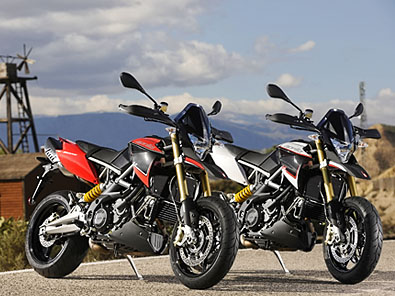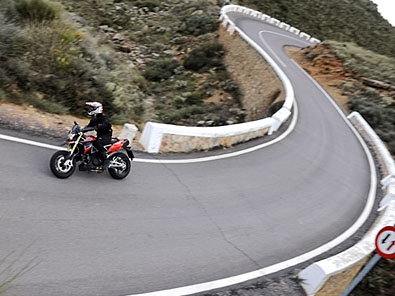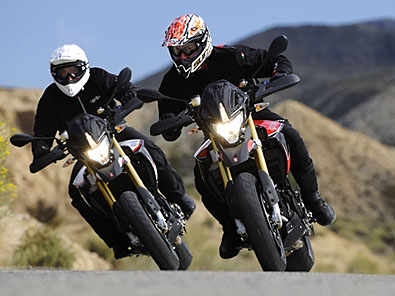 Aprilia Dorsoduro 1200 規格表

呎吋 SIZE

全長

Length

2,248mm

全闊

Width

92

5mm

全高

Height

1,205mm

軸距

Centre to centre distance

1,528mm

座位高度

Saddle height

870mm

最低離地距

Height from the ground

-

淨重

Dry weight

209kg

油箱容量

Fuel tank capacity

15L

引擎 ENGINE

引擎模式

Engine

水冷四衝程縱向90度V型雙汽缸DOHC 8氣門


Aprilia four-stroke longitudinal 90° V-twin, liquid cooled, double overhead camshafts with mixed gear/chain timing system and four valves per cylinder.

排氣量 Total displacement

1,197c.c.

最大馬力

Max. power at the crank

131.81ps / 8,700rpm

最大扭力

Max. torque at the crank


11.7kg-m / 7,200rpm

壓縮比

Compression ratio

12.0 : 1

缸徑x衝程

Bore x Stroke

106mm

x 67.8mm

供油系統

Fuel system

綜合引擎管理系統燃油噴注




Integrated engine management system. Injection system




前傾角

Steering angle

27.3°

拖曳距

Trail

118mm

起動

Starting

電動

Electric

傳動系統

Gear box

濕式多片6前速,液壓操作




6-speeds ,

Multiplate wet clutch, hydraulically operated.

車身

CHASSIS

車架型式

Frame

鋁及模塊化管狀鋼架,高強度鋼板螺栓及可拆卸鋁合金副車架




Modular tubular steel frame fastened to aluminium side plates by high strength bolts. Removable rear aluminium subframe.




前懸掛系統

Front suspension

直徑 43mm Sachs 全方位調校倒立前叉,行程160mm




Æ 43 mm Sachs upside-down front fork with fully adjustable compression and rebound damping and spring preload. Wheel travel 160 mm.




後懸掛系統

Rear suspension


鋁合金搖臂配Piggy-back Sachs液壓全方位調校吸震筒,行程155mm




Aluminium alloy swingarm Piggy-back design Sachs hydraulic shock absorber with fully adjustable compression and rebound damping and spring preload. Wheel travel 155 mm.




前制動系統

Front Brakes


直徑320mm浮動雙碟配Brembo四活塞徑向卡鉗

,金屬編織制動軟管




Dual Æ 320 mm stainless steel floating discs. Brembo four-piston radial callipers. Metal braided brake hose.




後制動系統

Rear Brakes


直徑240mm

單碟配

Brembo

單活塞卡鉗

,金屬編織制動軟管

,二路ABS系統




Æ 240 mm stainless steel disc. Single piston Brembo calliper. Metal braided brake hose. Two channel Continental ABS with Aprilia Traction Control (ATC) (specific version)

.




前輪胎

Front Tyres

120/70 ZR17

後輪胎

Rear Tyres

180/55 ZR17